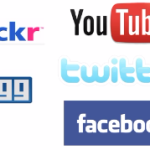 It all started many years ago with a website that if you were a company or you offer service for sale, that you would put up a website which really is a 24/7 online brochure. If someone knew your URL to the website they could go there and check out what your business has to offer.
Web Site Marketing
The simplest way to publicise your website to your prospective customers was to put your website's URL on your business cards, commercials and various other types of advertising material.
You could place your website in the online directory or the portal of the industry association or you could optimise your website so it ends up on the 1st page of the search engine results page so people can find you that way.
Another sure way to get on that first page is to pay search engines to force your website on the first page for keywords that relate to what you have to offer. Banner ads are also part of paid advertising.
Blog Marketing
And then along came blog that is essentially a website, however the content of it can change quickly. It can either replace your website or be supplemental to your existing website where you can add articles, thoughts, photos and videos covering topics in your industry.
The marketing for your blog is the same as for the traditional web site, you still need to let people know about the blog via print, SEO or paid online advertising.
Uniquely, people can subscribe to your blog and get updated every time there is new content added to your blog or use RSS feed reader where they can use one of many free RSS readers, add your blog to it and be able to read new posts from your blog that way.
Two-way communication – Great benefit of the blog is that people can respond by commenting and you as the blog owner can reply to those comments keeping the conversation going for the given topic. This way your readers and customers feel like they're doing business with real people and not just with the logo or the brand name.
Social Media Marketing
And then we come to social media. On social media everybody is on the equal footing and not just the blog owner but everyone has the equal say and very little moderation. Via the social media means such as the Facebook page, you can market, promote and provide customer service to your customers.
Providing that you don't spam social media community and you provide loads of useful information, it is possible that your message spreads via the word-of-keyboard and goes viral. Remember that it is the people on the other side of the keyboard and we all have friends whom we love sharing videos, photos and other content with.
The fastest growing services that you want to focus on are Facebook and Twitter. They are easy to get started and currently have over 1 billion users combined.