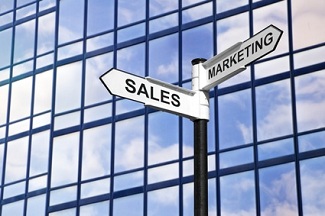 Recently I had an opportunity to put an online marketing proposal to the sales state manager of what I later found out was a large building accessories company – they marketed garage and roller doors. I won't mention names due to the obvious reasons.
The way I got this appointment is that I got a response from the manager to a question: 'who is the best person to talk to regarding sending more customers to your company?' He said, I am the person to talk to about that.
As I presented my proposal that would basically put this company on the first page of Google and get tonnes of business to them, this gentlemen realised that my proposal is to do with marketing and 'not sales'.
The further I went into my material showing where their rankings were and what I can do to help, the more he felt that he was not the person to talk to. 'You would need to talk to our marketing manager about this as she would not allow me to spend any money on this.'
Clearly disappointed, I realised that this is another larg-er company with an in house marketing who are too busy with handling all forms of advertising that they are probably very average overall.
My opinion here is clear – if the sales department performance is measured on the amount of sales and its profitability than sales folks in any company should have a greater say in marketing decisions. Unlike an internet marketing, most other forms of advertising such as billboard, TV, radio and print are not so easy to measure.
It is all very well for marketing folks to be proud of their brand new and good looking website and their flashy poster on one of the magazine pages but what does that do for their sales, have they increased, how did they measure the success of these campaigns?
My guess is that most don't have an answer to these questions and my 2 cents worth is – every business must have a well structured online campaign consisted of paid and 'free' advertising handled by internet marketing expert in addition to traditional advertising channels.
Not saying I'm always right, but I'd be surprised if anyone disagreed with this 🙂