Whenever Google announces anything the whole world listens – same thing goes for Apple however here is Google's latest announcement that we're approaching ever so closer to. It is something that search engine optimisation and internet marketing world has been buzzing about ever since it's announcement: here's what it's all about and it kicks the week of 21 April 2015!
New Google Mobile friendly algorithm
In a nut shell – get your website mobile friendly or face a demotion on the all important search engine results page. This announcement helped web design companies offer customers proposals for new mobile-friendly websites. Is this justified? Well – it is as long as you're not asking website owners to fork out thousands of dollars for this change. If you're running WordPress based website than it is much simpler to make a transition. It may be as simple as installing the new so called responsive theme and that would take care of the rest.
Although not as simple as that as you would need to make other customisations to fit the theme templates, options, sliders, widget, headings and other elements. I personally had to update half dozen websites that are now showing as mobile friendly – this includes this blog.
How do I know if my website is mobile friendly
That is a simple part and the best way to find out is to go to Google's Mobile-friendly test page. What you're hoping to see is something like the result below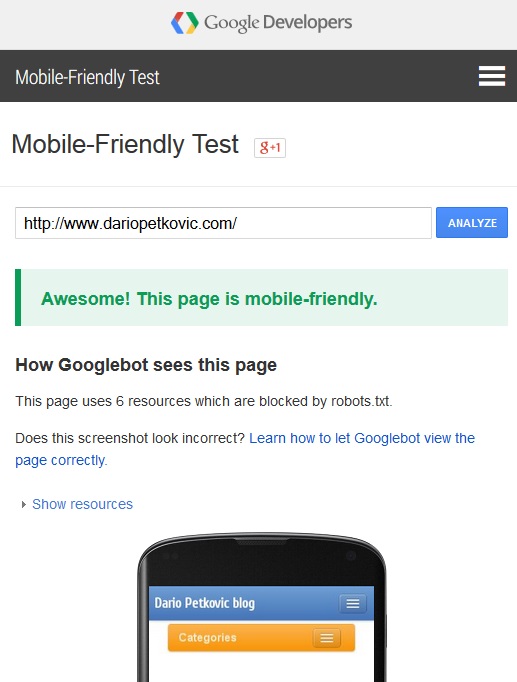 The result that would require a website redesign would look something like this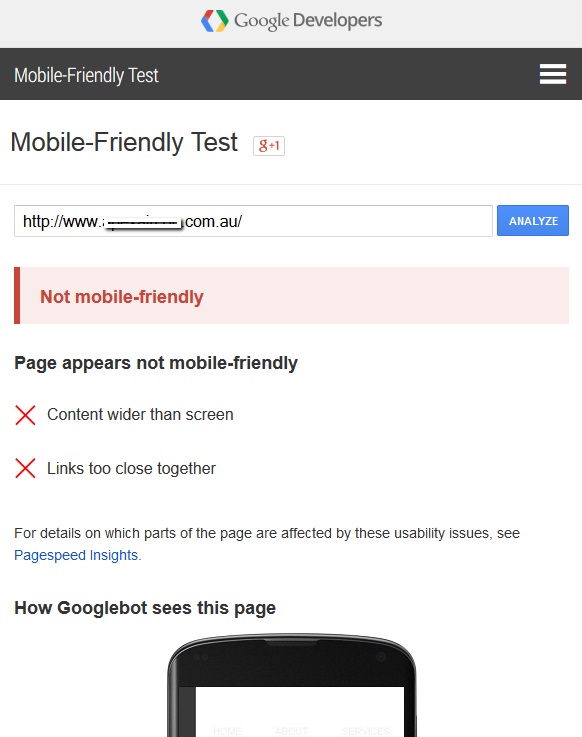 So, what will actually happen on the 21st Apr '15? Search engine results page results will be affected only on mobile devices that do not include tablet devices so if your website shows something similar to the the second screenshot below, your page will most likely not show up on the search results page for any competitive keywords when searched on mobile phones specifically. So get cracking and have your website mobile friendly!