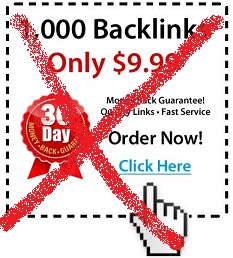 Every website owner and especially those whose livelihoods depend on their website would naturally love to be on the top of search results when people are searching for their product and services. In fact, close to 100% of business is done from the first page and of that more than 90% of targeted traffic goes to the top half of the search engine results page (SERP).
As a website/business owner or anyone who ever looked into SEO and Internet marketing, you would have had to have come across a video or an article that basically says 'you have to build backlinks to your website'.
As a one liner definition, backlink is an internet link that is pointing from any other Internet property (website or webpage, a blog post, an article, a social bookmarking site..) back to your website. The more inbound links the more credibility a search engine will give to a particular website.
Now, how is one to get incoming links (backlinks)? The best way is to 'earn' your links – become involved in the industry/niche that your website/blog/business is part of and comment on related blogs, write articles and your own blog posts. There are whole courses describing the process, educate yourself or get help.
One important point here is that whatever you do online, you must attempt to bring valuable and unique content whether it be a video, a blog post or any other type of content. Engage your audience, make them want to share your content with their friends who will share it on.
Buying incoming backlinks is a definite no-no. Although you can outsource your SEO to someone with a proven track record and people you can trust, never attempt to buy any 'backlink package'. You have no control over where those links are going to come from risking Google and other search engines penalising and even de-indexing your website. This means that your internet traffic that used to come from search engines will well and truly dry-up. And if that happens, you will most likely need an SEO agency to help you with it.