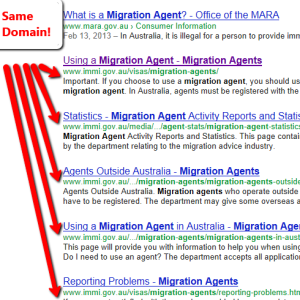 While helping local businesses with their internet marketing of which search engine optimisation (SEO) is a huge part, I noticed changes in Google search engine results page (SERP) rankings – a substantial changes! So what's going on? See my live examples below and then the conclusion as to what I believe is happening.
Many webmaster forums and renowned SEO websites such as search engine round table www.seroundtable.com are reporting wild changes to search results so I decided to do my own research (staying on top of it is of paramount importance to keep my customer's sites 'up there').
Example 1
While located in Sydney and searching for 'air conditioning' on google.com.au I notice following:
Only 5 out of 16 results of the first page are actual air conditioning supply and installation local companies. The rest are air conditioning manufacturers like FujitsuGeneral.com.au (2 spots) and big retail chains like TheGoodGuys.com.au and HarveyNorman.com.au who also sell many other goods like furniture, kitchens, computers, software ..!
One of those local companies was my client until the website just fell off the face of the Search engine results page without any apparent reason or a warning in the webmaster
Example 2
While also located in Sydney I did a search on google.com.au for the phrase 'migration agent'. This term gets hundreds of searches locally every month. What is the result I get?
Out of 13 results on the first page, 3 are map/local results
Out of all the 13 results 8 are government websites such as MARA.gov.au which is a Migration Agent Registration Authority (3 spots) and IMMI.gov.au which is Immigration Department of Australia (5 spots!)
Only 5 results are actual migration agents or agent directories that charge for membership which really constitutes a 'paid listing'. Example of this directory is mia.org.au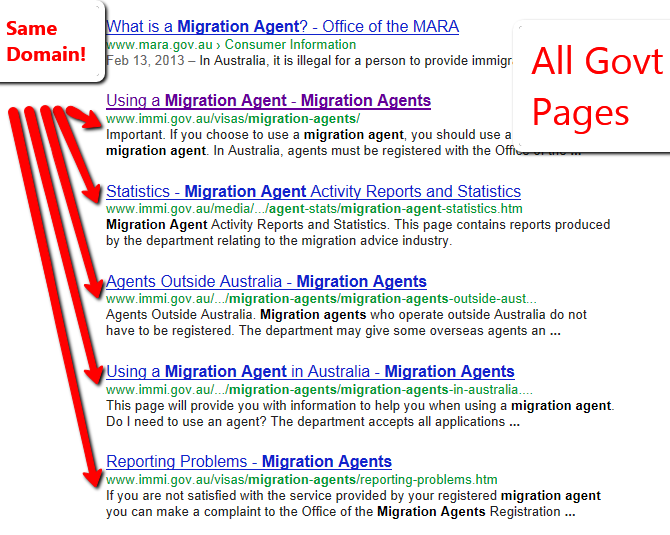 Conclusion
Some in Webmaster circles are suggesting that Google is doing this deliberately to make local businesses pay for advertising. Although I don't believe this to be the case, I will certainly have to make more emphasis on Google AdWords going forward (read: more money in big G coffers)!
What my take on this is that as our friends at Google land are releasing more than 500 updates to their algorithm every year (this comes from the horses mouth), whey would have pushed the update/s that favours pages with high authority and don't seem to care if a single domain has multiple listings on the first page. I think that this is wrong and the search engine should be able to make it's mind as to what ONE particular page to rank from a particular domain instead of 'littering' the search engine results page with multiple pages from the same site.
What next? In my opinion – continue the natural looking SEO effort and utilise paid advertising options.