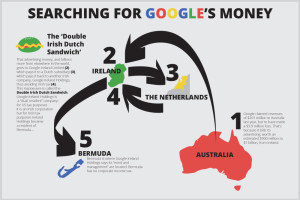 A new report by Australian telecoms market research company Telsyte has suggested – without actually naming the company – that Google pulled in revenue of almost A$1.7 billion from Australian search advertising in the latest year.
Telsyte research puts revenue from the total paid search market in Australia for the year to June 30 at A$1739.8 million. Telsyte research director Foad Fadaghi told media that more than 90 percent of this – or at least $1.56 billion– would be attributable to Google.
That figure contrasts with the A$239 million that Google Australia declared as total revenue in its accounts for the year to December 31 2012. The local subsidiary declared a profit of $22.4 million for the same year.
Those figures do not include the search advertising revenue, since Australian advertisers must enter contracts not with Google Australia, but with a Google subsidiary based in Ireland, where the corporate tax rate is 12.5 per cent.
From there royalties are said to be paid to a Netherlands entity and flow on to a Bermuda tax haven – part of a process which has been dubbed the "double Dutch-Irish sandwich".
The Australian Government earlier this year announced plans to make such arrangements a major topic for discussion at next year's G20 meeting in Brisbane, with the aim being to close them down and ensure businesses pay more tax in the countries where they actually make profits.
Telsyte's report actually concentrates on the mobile paid advertising market in Australia, which it says was worth $430 million in 2013 – or 25 percent of the total paid search market. Online/desktop paid search accounts for the rest at $1.3 billion.
The report estimates Australia already has 14 million smartphone and 7 million tablet users.
The mobile search market is growing at a 17 percent compound quarterly rate, the research firm estimates, making it the fastest growing advertising medium in Australia.
Tablet paid search is the largest segment, generating $240 million this year.
"By 2017, Telsyte forecasts mobile [ie, tablets and smartphones] to make up more than half the Australian paid search market. Mobile paid search will become the largest individual digital advertising product segment in Australia by 2018," the report forecasts.