I wasn't a big fan of Google AdWords till I started looking after my client's AdWords campaigns. This is when I realised that as many know, pay-per-click PPC marketing model works. It gives you instant traffic, no need to wait for months to start ranking for money keywords that a good SEO can bring you. Sure it costs money, so does everything in this world 🙂
To side with naysayers though, I have to say that this major search engine's cost-per-click CPC has become so competitive  that paying $10+ per click for family lawyers keyword for example is a little ridiculous.
If you know what you are doing however, you can bring that cost down. Quality score of your keywords is one of the determining factors as to how much exactly you are going to pay.
Basically it is the relevancy of your keywords to the landing page you are sending traffic to, quality and relevancy of those landing pages and also your average click-through-rate CTR that will determine the over all cost – in addition to the competition to which you don't really have much influence over.
The higher relevancy, quality score and CTR the less you will pay for every click.
When I first got involved with AdWords, it was really hard to find what a good CTR was. You would see YouTube video after video and nobody would tell you what it is. Everyone would say – depends on the industry, market etc etc – and it does; but – what are we talking about here? Is it 0.5%, ,1% or 5%?
Even the search engine help files themselves don't want to go too deep into this (very important) detail.
Although I will also not give you a definite answer here, I can tell you with great certainty that you want to be over 2% at a minimum. If you are not there, review your campaign, in particular take a look at the copy of your ads – are they enticing enough for searchers to click on, do the have call to action, would you click on it if you were looking for family lawyers for example?
Here is the screen shot of one of the campaigns that I'm looking after at the moment and I don't think anyone would complain about the CTR being above 5%.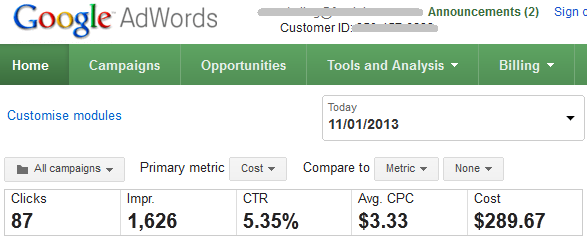 Now, to give myself a pat on the back – this campaign had a CTR of under 1% before I took over. Also, I must mention that this is for the Search Only campaign as the Display network online campaign would certainly bring that number down dramatically.
What is your experience regarding a CTR, what's a good CTR in your opinion?